MGH Marine Power Cable
Standards : DIN 89160
MGH Marine Power Cable Applications
Halogen free cable is used for fixed laying on ships and off-shore units, use in all rooms and on open board, as power,signalling and control cables.
A more specic design (e. g. screening) is necessary for installations in radio stations or above the upper metallic deck.
The cables meet the ame test requirements for bunched cables acc. to IEC 60332-3 and IEEE 45-18.13, and perform to the SOLAS requirements.
For xed installations on ships and offshore-units in all locations.Meet the Flame test requirements for bunched cables according to IEC 60332-3-22&IEEE 45-18.13.Free halogen materials ensures that non corrosive and low toxic gases are emitted in case of fire.
All cables materials are free of halogens. This design ensures that non corrosive and low toxic gases are emitted in case of re.
Therefore, these cables are especially suitable for the installation on passenger ships.
MGH Marine Power Cable Construction
1.Conductor : Annealed Stranded Bare Copper,Class 2
2.Insulation : HEPR (Crosslinked Hard grade Ethylene Propylene)
3.Filler or Tape
4.Sheath : Polyolefin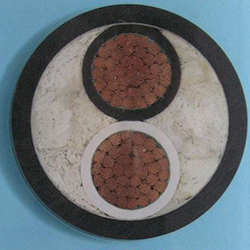 Electrical Characteristics
Rated Voltage Uo/U(Um):600/1000V
Test Voltage:3500V
Usage Characteristics
Flame Retardant:IEC 60332-3 Cat. A
Smoke Density:IEC 61034
Gases Corrosivity:IEC 60754-2
Gases Toxicity:No toxicity to IEC 60754-1
Minimum Internal Bending Radius
Cable Structure

Cable Outer Diameter

Minimum Bending Radius

Metal Braided Armored

6D

Non Armored

D≤25

4D

D>25

6D
We will provide you with the best quality, competitive prices and satisfactory service.
For more enquiries ,please contact us.
MGH Marine Power Cable 0.61KV
We could not find any corresponding parameters, please add them to the properties table
Inquiry/Feedback to our sales office
The easy and safe way to contact us


Company address:
No.43 Jiangyang Road,Development Zone, Yangzhou City, Jiangsu Province, China.